Why Customer Testimonials Are Important For Your Online Store
Testimonial showcase is made available now and let's see how it could benefit your online sales by adding this new feature to your lelong store.
Most customers say that online reviews influence their buying decisions. Nearly 95% of shoppers read online reviews before making a purchase (Spiegel Research Center, 2017) .
A study published in Psychological Science also showed that most people will choose the product with the most online reviews when given a choice between two similar products.
According to Econsultancy, when a site has customer reviews,
63% of visitors are more likely to make a purchase, and reviews produce an average 18% uplift in sales.
This is because most shoppers trust online reviews as much as a recommendation from a friend or family member, above all other forms of advertising (Local Consumer Review Survey, 2017).
Bad testimonials?
No worries.
Believe it or not, even a few (a very few) bad testimonials help.
A bad testimonial makes the others more authentic.
A research was done by Reevo, a social commerce company on 2.5 million customers to study the impact of good and bad testimonials on business. The outcome was somehow impressive that it shows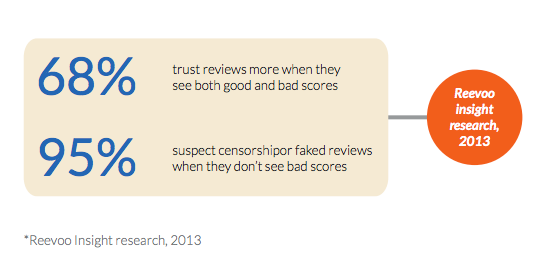 When there was a mix of positive and negative reviews, the negative reviews add perspective to the overall purchase, and, in some ways, make the four-star and five-star reviews look more credible.
When there were no negative reviews, consumers might suspect the reviews could be fake. The customers are just ensuring they've made the right choice by looking at a few of the bad reviews.
But be careful—too many bad reviews, not surprisingly, has the opposite effect.
Thus, make customer feedback a part of your purchase cycle. Always do your best to provide the best service to your customers to collect positive reviews that may be helpful to your business.