Star Seller Programme
Note: Updated on 6th of June on Star Deals Subsidy Reimbursement.
Dear Valued Seller,
Star Seller Programme is designed to provide dedicated support to our top performing sellers to achieve better growth overall. Here is something you need to know about 'Star Seller':
What is a Star Seller?
A Star Seller referring to the selected seller that provides good delivery services, good performance and fewer complaints received.
All this while, we have been receiving a lot of feedback about needs of providing exclusive supports on operation or sales performance. We hear you and today we are bringing this star seller programme to you as an appreciation of your commitment with Lelong.my throughout all these years.
How do we choose our Star Sellers?
Star Seller Programme is a pilot project that is currently available to selected sellers by invitation only.
We are working out in a way to extend our support to reach more top-performing sellers in the near future. Below are the criteria for you to be selected:
Good Delivery Service: Ensure fast delivery & great customer rapport

Good Performance: Stable growth of store sales

Low Complaints: Good ratings & more product reviews
6 Key Benefits to Enjoy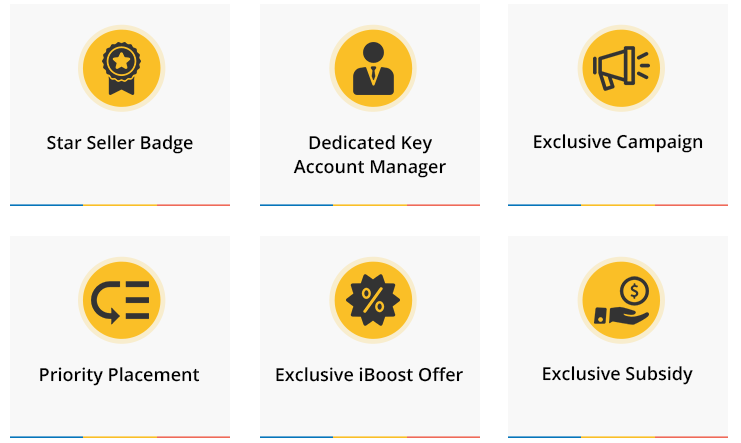 Star Seller Badge
A Star Seller badge symbolizes a sign of trust and good services to selected sellers. It will appear on filter bar, seller information, store name and checkout page. This is to ensure the star sellers are gaining more exposure and easily queried out by buyers. 
Priority Placement
Priority placement across Desktop, Mobile, Newsletter & Social Media will be exclusively for Star Sellers. However, the placement will be decided by few factors such as relevancy to theme, offer (i.e. Discount / Coupon / Gifts) & participation.
Dedicated Key Account Manager
We noticed how important it is to have stronger communication with our sellers, hence we are now introducing a dedicated store manager to provide exclusive supports to Star Sellers. There are 4 main areas that Key Account Manager will handle for you:
Managing your store directly (with discussion & permission)

Constantly updating you on campaigns & deals to offer

Managing your iBoost directly with data-driven approach

Always advising on marketing efforts and strategies
Exclusive iBoost Offer
As a Star Seller, you get to enjoy special promotions!
Top up a monthly budget and be entitled to free credits in your iAccount that is specifically used for boost feature at the moment you join this programme.
To save your time, the key account manager will manage it for you with data-driven approach and a detailed analysis report will be provided after the boost period ended. With this report, you are able to analyze and understand your store trend better and eventually helps in sales performance. 
Exclusive Campaign
A brand new 'Star Deals' campaign page is live today. We will select the good deals submitted by Star Seller and exciting products will be refresh daily and display on the page for certain period. In a nutshell, this is a page where you can shop all the great deals in Lelong.my across all categories. Be fast to grab!
Exclusive Subsidy
Star Deals products will be live every day and top up with subsidy to make the deals even more attractive.
*Subsidy percentage will be subjected to case by case basis and deals submitted subject to approval.
Star Deals Reimbursement
Star Seller will be reimbursed a month later upon product live date. You should receive your reimbursement on by Friday. Below is an illustration to help you understand better: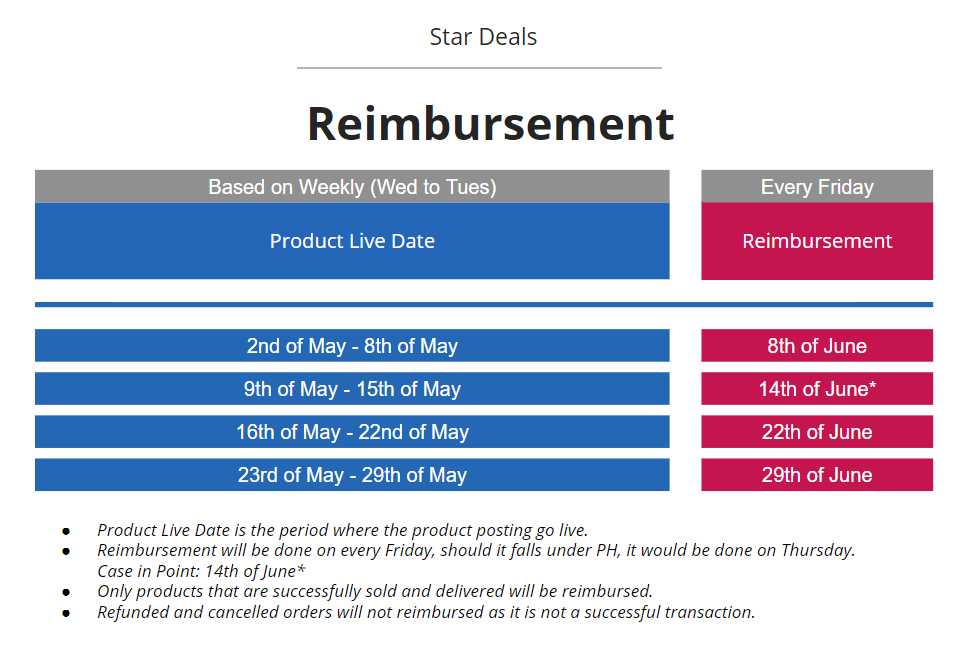 Should you have any queries, please do not hesitate to contact us here.
Happy Selling!